THIS IS WHY WE LOVEEE CHANCE THE RAPPER!
Chance the Rapper donated 1 million dollars to Chicago Public Schools.
Determined to repair the school system in his hometown of Chicago, Chance donated to the Public Schools.
The Grammy Award Winning Rapper held a press conference at the Westcott Elementary School in Chicago to discuss last week meeting with  the Governor of Illinois, Bruce Rauner, the meeting didn't go so well.
Chance stated, "The governor gave me a lot of vague answers in our meeting, Our talks were unsuccessful. Governor Rauner still won't commit to give Chicago's kids a chance without caveats or ultimatums. Our kids should not be held hostage because of political positions," Chance continued. "If the governor does not act, Chicago Public Schools will be forces to end school 13 days early. That means over 380,000 kids will not have adult supervised  activities in June and could possibly be put in harm's way."
'Today, I'm proud to announce that I am donating $1 million to Chicago Public School to support arts and enrichment programs, said Chance The Rapper…. "I am honored to make this contribution and help to cultivate Chicago's creative minds."
First Lady Michelle Obama took to Twitter to Thank Chance The Rapper!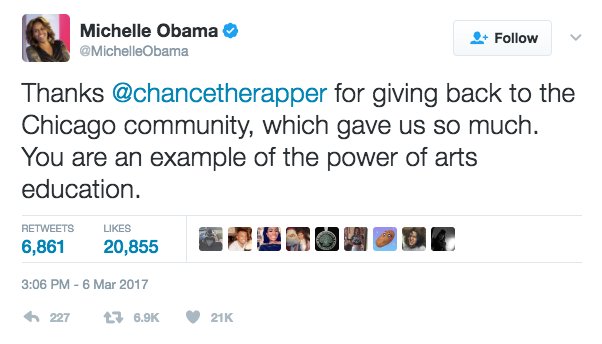 Thank you Chance!